About Us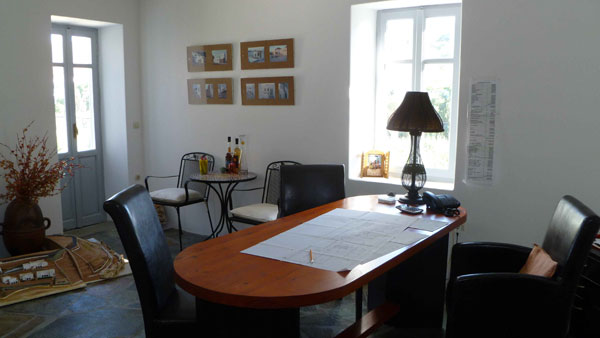 Our studio is formed of architects and civil engineers with a lot of experience and we also have our own team of special trained building technicians:
Apostolia Nasiopoulou - Civil Engineer - Building Contractor
& associates
Sylvie Trambouze - Architect, project leader - Graphic Designer
Vassileos Zotos - Civil Engineer - Topographer
Stella Spanou - Architect
Emmanuel Simigdalas - Design / Secretary
Our Services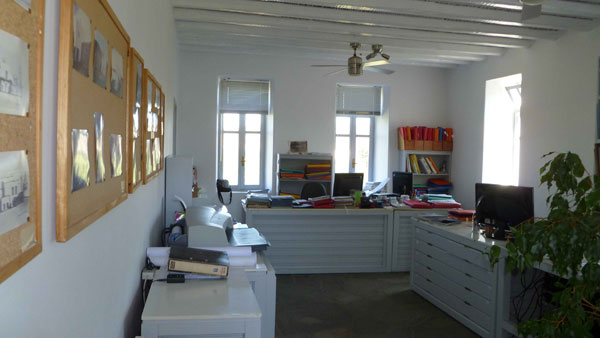 Project - Building Permissions
We create the project and do all the necessary process to get the permission for any type of building .The beauty of our work in Amorgos is that we face very different situations .We plan and build private houses, villas, country houses, apartment complexes, hotels, restaurants and shops, meeting halls, chapels... We believe in the benefit of the cooperation between customer - architect and we offer any service needed for the best result.
Construction
Our 26 year experience in the construction in combination with the fact that we have our own building team of special trained technicians allows us to build any kind of building. We prefer to use natural materials like local stone and wood etc. in the traditional way.
Restoration of Old Houses
Few are the lucky ones to own an old house, and in this case like to restore it .This project needs a delicate work. Modern comfort and the new way of living have to be mixt carefully without damaging the existing "spirit". We believe that we should emphasize in all the values and the personnality of the old house, giving to it a modern air.
New Buildings
Amorgos and the Small Cyclades are protected by a special law to conserve their traditional aspect. This means that every architectural drawing has to respect many rules that are completely different from the rest of the Cyclades, and also, in most cases, to also respect special rules or demands made -case by case.
Real Estate
Every year, many visitors ask us if we know about a piece of land or a house for sale. In order to help them, we recently took a license of Real-Estate. We are currently fixing our web-site to add a choice of lands and houses for sale in Amorgos. Contact us for more information.
Topographical Plans
Every selling , purchase of a ground and contract, or buiding permission, has to be registred with a topographical plan made by a civil engineer. This is the base of our work, for that we use the latest technology, laser measurement and global positioning system.
Public Works
Apart of private work ,our studio does the construction of a variety of public works like roads and schools or factories etc.
CONTACT INFO
Apostolia Nasiopoulou Katapola, Amorgos
84008, Greece
Tel: +30 22850 71554
Email: aponas@otenet.gr
We speak:




---
Aλλες γλωσσες

Ελληνική έκδοση της ιστοσελίδας
---